Since 1872, our Maison delights both young and old with its selection of macarons, chocolates and regional specialties.

A family affair

The first generation : Jean-Baptiste Trogneux was a baker. He open its store in 1872 in the center of Amiens (where the actual flagship is located) where he realized sophisticated dessert and pastries. A few years later, he invented the recipe of the notorious "Macarons d'Amiens" for which our maison as come to be known. The second generation, Jean , followed the work of the founder and extended the size of the store. The third generation, another Jean, had to fight to save the maison during the war and its attendant traumas. After the fourth generation, Jean Claude, came the time of Jean-Alexandre.

One can ask whether, in the Trogneux Family, passion for chocolate runs in the gene pool. Since 5 generations, the "Jean" carries on the centuries-old know-how of their ancestors while adding their personal touch : Jean-Alexandre Trogneux, 55, is now leading the family business which counts today 7 stores in the north of France (Amiens, Arras, Lille et Saint-Quentin) and brew 45 tons of chocolate and 18 tons of almonds each year. Beside its specialty, the macaron d'Amiens, our maison offers a selection of traditional chocolate but also a more modern version as the "Ichoc" (chocolate smartphone). "We do our best to surf on the cultural, economic and culinary trends of the moment" says Jean-Alexandre Trogneux. Who will write the nex chapter of the story ? His son, Jean-Baptiste, 24 or his daughter, Margaux, 21 ? Because, after all, chocolate is not only a men's business.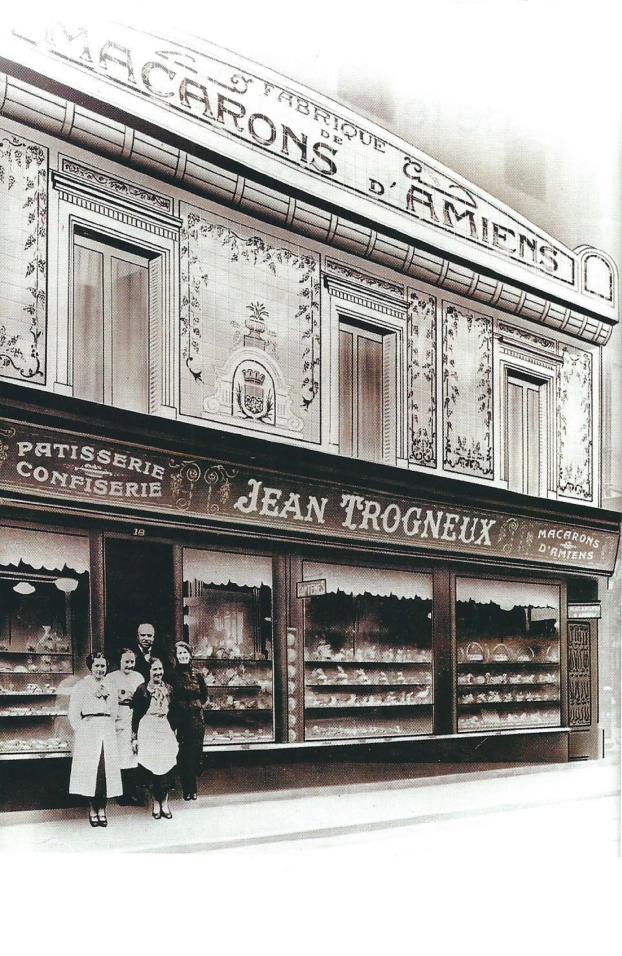 Artisans Chocolatiers
Jean Trogneux's chocolate assortment is a selection of the best origins of coca beans. Discover our tablets, personalize your ballotin among a selection of 30 of our best pralinés, puffs, gianduja, almond paste, ganache, hazelnut paste and almonds or indulge yourself with the multiple shapes given to our chocolate by our master chocolatier.
This subtle blend is at the origin of the reputation of the Trogneux maison.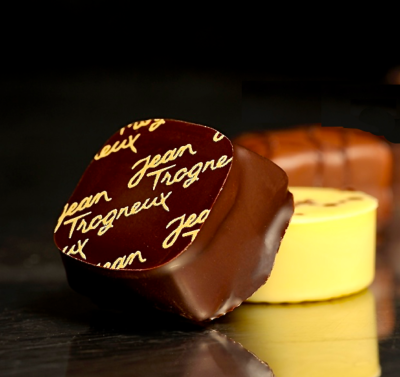 A renown speciality
The recipe at the origin of the reputation of our maison : The macaron d'Amiens, has been created by Jean Trogneux in 1898 and has remain unchanged. We are proud to use the same artisanal fabrication technique and the same ingredients list composed of natural products only :

Valencias almonds, sugar, honey, sweet almond oil, bitter almonds and egg white

The macaron d'Amiens has been popularized by our maison, main producer of this regional speciality.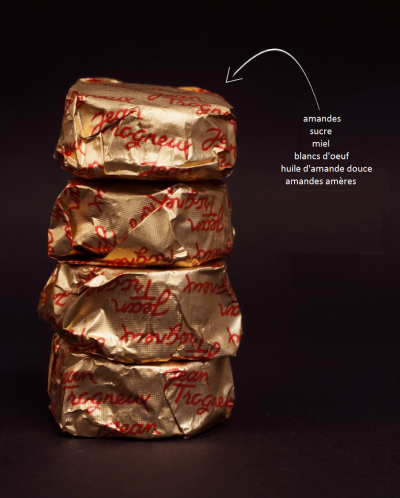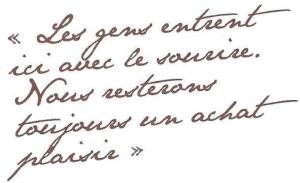 Identification
Raison sociale
Jean Trogneux
Statut juridique et capital social
SAS au capital de 190000€
Nom responsable
Trogneux
Prénom responsable
Jean-Alexandre
Siège social
1 rue Delambre
Code postal
80000
Ville
Amiens
Pays
France
Téléphone
03 22 71 17 17
Fax
03 22 71 17 11
E-mail
[email protected]
Site web
www.trogneux.fr
Horaires d'ouverture
lundi 13h45 19h00 et du mardi au samedi de 9h30 à 19h00
TVA intra-communautaire
TVA FR 57 551 720 592
Siret
55172059200015
Code APE/NAF
158k
Directeur de publication
Jean-Alexandre Trogneux
Hébergeur du site

New Oxatis

Immeuble Acropolis
171 bis Chemin de la Madrague Ville
13002 Marseille